Normal Objects™ x Alexandre Souêtre

2021
Analog Artifacts
The Design Collaboration
N009 / N010





Alexandre Souêtre is being enlisted as a collaborative partner to co-design and co-execute the production of (2) conceptual objects along with the visual campaign (photo x video) to promote the collaboration.

_

Jeremiah Baker of Normal Objects™ & Alexandre Souêtre combined approaches. They wanted to collaborate, in a remote world / during a pandemic. The notion was simple: take common cultural object archetypes & reimagine how they are experienced.

Blending Jeremiah's industrial design heritage with Alexandre Souêtre's visual approach as the first set in a limited series of analog artifacts. The collaboration included co-design & co-execution, producing of (2) conceptual objects along with a visual campaign (photo x video) that transforms how you experience those objects.

The two set out to take this provocation as far as their imaginations would allow, making the viewer slow down and focus on the core utility, visually experiecing common objects in ways they haven't before.

The objects:
Nowadays, everything is automatic. Being present is no longer a protocol. Actions are effortless, and most often mindless. These objects seek to evoke a return to mindfulness. The interactions require intentionality and the forms drive new utility. Each is pure and precise in materiality and in function. Beautifully minimalist reinterpretations of common icons, with a focus on quality.

The objects were co-designed and concived remotely from NYC, Portland, Los Angeles, Miami, Paris & Reykjavík.
The Campaign was produced in Portland & Los Angeles, and shot in Los Angeles.
The objects were assembled in South Korea.




Concept Phase
Design Phase
Production Phase
Campaign Execution
Release
On view @ Art Basel Miami

OCT 2020 - MAR 2021
APR 2021 - AUG 2021
SEP 2021 - OCT 2021
OCT 2021
12 NOV 2021
03 DEC 2021 - 07 DEC 2021





International Morse Tapping Key N 009
1/001

An understood utility and a completely reimagined form. The concept stemed from the need to slow communication down and challenge the expected speediness in delivery that users experience with smartphones.

The tapping key allows users to send morse signals with a LED for feedback + comes with an international morse code breakdown metal card.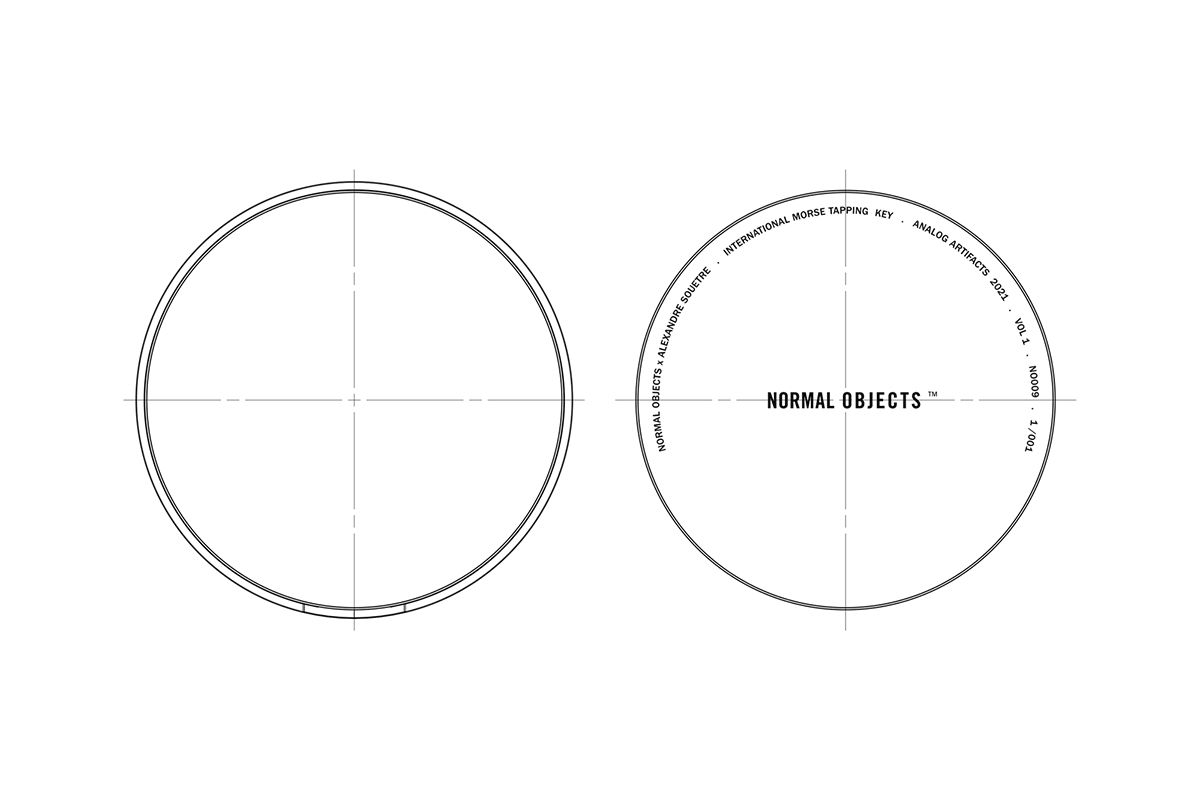 Analog Brass Lighter N 010
1/001

A provocation, thinking backwards in function, but foreword in form. A well known archetype with a completely re-imagine utility.

The analog lighter has a slide action to reveal a compartment for storing matches that be ignited on a strike strip located at the bottom of the lighter.






Normal Objects™
normalobjects.com
@normal.objects

> This Is Paper Magazine
> The Campaign
> Back to A.A.